A Walk Among The Tombstones (a little ranting included)
21:14
Due a promise to my sister, I watched A Walk Among The Tombstones starring Liam Neeson last Thursday, alone (instead of the long-anticipated The Maze Runner). She hasn't had a chance to watch The Maze Runner so I had to wait for her.. but hey, I'm not complaining. It's Liam Neeson kicking asses.

I went there with a bunch of friends but they wanted to watch The Maze Runner so I paid for another movie just to honour my promise (and of course to watch Liam Neeson in action).




Directed by Scott Frank, this movie is based on a Lawrence Block novel of the same name. Liam Neeson stars as an ex-cop, Matthew Scudder. He quitted after he shot a girl dead, in a drunk condition. He then freelances as a private investigator who helps people, getting favours in return.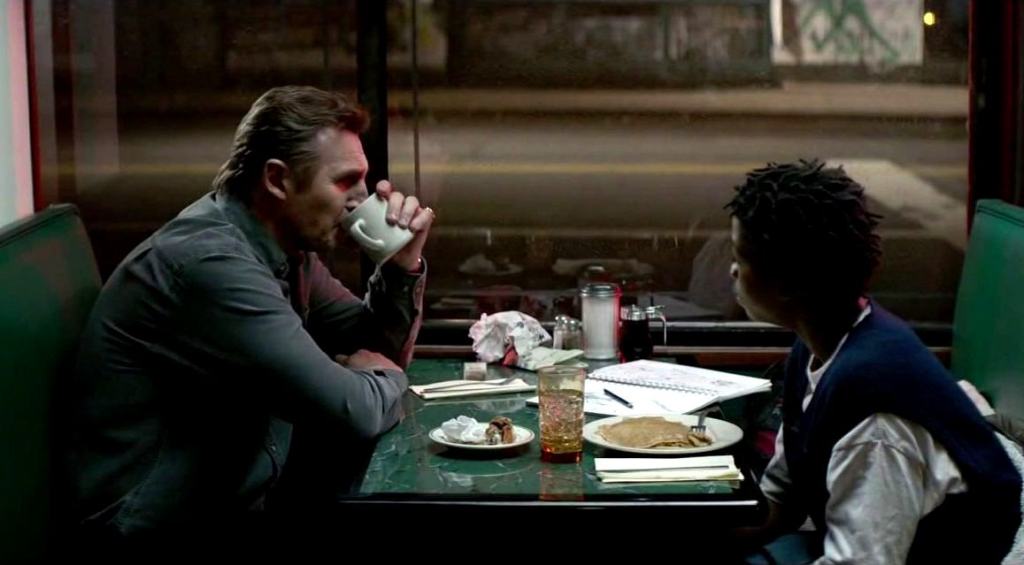 A drug trafficker, Kenny Kristo (Dan Stevens), hires Matt to track down his wife's abductors. His wife was brutally kidnapped and murdered. It appears that this is not the first case. Instead, there are psychotic serial killers about. These abductors / psycho killers (David Harbour as Ray and Eric Nelsen as Howie) methodically stalks their victims and kidnaps them. The kidnapped victims never return home, even though the ransom money was paid. So, basically it's about drug traffickers' wives getting kidnapped (and mutilated) by two sadistic killers. Matt was being helped by TJ (Brian Bradley) and Kenny's brother, Peter (Boyd Holbrook).




One of the movies I've watched starring Liam Neeson was Taken and its sequel, Taken 2. I love how he sounded when he spoke calmly to his daughter's kidnapper then: "I don't know who you are. I don't know what you want ... I will look for you, I will find you, and I will kill you." This was one of his more famous quote. A Walk In The Tombstone also had something along the line. It's like he could talk his way out of every dangerous situation. Remarks like "Maybe I don't care if you shoot me or maybe there's a rifle pointed at your head." made my day.




In my view, this movie is pretty good because it highlights some issues such as people being careless about their own safety nowadays (like greeting two guys in a creepy-looking van outside your house). I mean, yes, being friendly is not a crime but society nowadays... people are willing to do about just anything for money and to accomplish their goals.
Another one is about alcoholics and druggies. There's a few scenes about alcohol and drugs (what with the victims being drug lords' wife and kids). Sure, there are scenes of people drinking and also of people taking drugs but there are also scenes of a therapy group, sharing their accomplishments and their stories. And astonishingly, some of the rules that they use to keep them away from their addictions apply to our daily lives too.

Of course, there are quite a lot of violent scenes here and there (it's rated 18PL in Malaysia, idk.. they like cutting scenes very much.)
The scariest part? It was a Thursday afternoon, without many people in the cinema hall. And my row was practically empty when the lights went off. Annabelle's trailer screened when I was starting to enjoy myself. I'm not a huge fan of horror movies, however, thrillers I could withstand.. I was so desperate. No one to whisper to, no one to cling to. Ugh.




More and more patrons came into the cinema hall after that. There was an auntie and her daughter on my left and a couple on my right. These people gave me quite a bad impression though. The auntie kept speaking loudly to her daughter even though the movie is playing. The girl on my right was fidgeting and even removed her shoes and put her feet on the seat in front of her. I'm OK with people removing their shoes during movies as long as they are not stinky but putting your feet on the back of the seat in front of you is really not advisable. Do these people even care about the other patrons? I guess not. Another thing that I couldn't stand in cinemas is babies crying. Seriously, why do you bring a baby into the frickin cinema..
Well, these are just my personal opinions. If I have offended you in any way, you have my apologies even though I do not agree with you.

So, till the next time! Hopefully, I get to watch the movie that I've been wanting to watch this weekend.

-pics Googled-