21 March 2013 may be just a normal day for most people but it is a memorable day for us CHKL-ians. Why? It's our school's 94th anniversary!
HAPPY BIRTHDAY CHONG HWA INDEPENDENT HIGH SCHOOL KUALA LUMPUR!
I know that our school had been getting negative feedback on the news and stuff at the beginning of the year but still, the media is making a fuss out of everything as usual. This and that, it didn't affect our enthusiasm towards our school.
Well, to be frank, I've never really got my heart into the school anniversary celebrations but maybe it's because I'm Form 5 this year or due to some other reasons, I joined in this year. And I love it.
A little around 7am, we gathered at the basketball court and made a "I ♥ CHKL" shape. Spot me laughing weirdly and totally not camera-ready if you can.
And this year, a graduated student from our school created an event on Facebook and requested that students (no matter how old you are) post their photos on that page with a "
I LOVE CHKL
" slogan. It was surprising to see so many people checking in from different places in the world.
Got this picture from that event page. I've got to admit that this is pretty cool. 7,000ft above ground and still...
OTL
What to say? I'm so very proud of my school.
We had a special assembly in the morning. There are a few different things on the agenda this year. First of all, we have a new headmaster. And also, every teacher and student get to have a chocolate muffin during the assembly whilst the board had a cake:
Got this photo from the page too, credits to Song Yong, to be exact.
So, many things happened during the assembly too. For instance, singing Happy Birthday to our school and weird things like some guys from the class next to ours were singing and dancing
Dumb Ways to Die
, which made me laugh like crazy and we were toasting with our form teacher (yes, with cupcakes, doesn't make sense right?)
photo credits to Angela
When we got back to class, we left our names and codes on the whiteboard and took group photos with some of our class teachers (the photos are still not ready, too bad). Super crazy. We even recorded video clips and plan to combine them into a short video for the school.
What a day. And a totally different school anniversary celebration.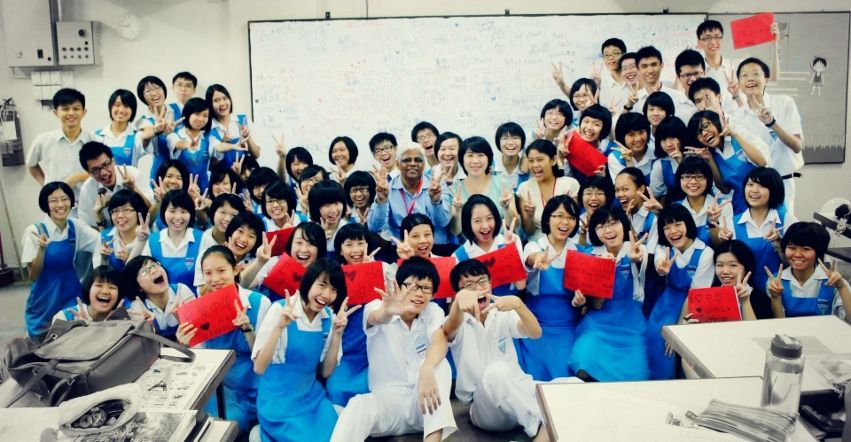 - update 22Mar: one of the photos we took on the 21st. credits to Nickae, edits by moi :D -
And also, no teacher dampened our spirits by writing on the whiteboard. Some of them even added their names to the board. I didn't know that my maths teacher could teach orally. Genius.
Above is one of my two versions of "I ♥ CHKL" taken yesterday. Lots of people changed their profile pictures for the event. So did I. Hahaha. I know I look weird but, who cares?
It's just such an awesome way to celebrate our school anniversary. Totally in the mood!
photos taken from CHKL FB Page unless noted otherwise. obviously, the last one is a selca..