Dinner at D' Italiane Kitchen
18:57
Went for a facial session on Sunday at Sunway Giza. And I lost a bet. So... to D' Italiane Kitchen it is.
Okay, this wasn't my first visit to the place as I fell in love with it since I was, what, 14?

I know some people have been giving negative comments on this contemporary Italian fine dining restaurant but perhaps the stuff I ordered were better? Or different chefs? Or it had improved over time?
I've visited this restaurant for a couple of times over the years but so far, so good. It was quite nice for me.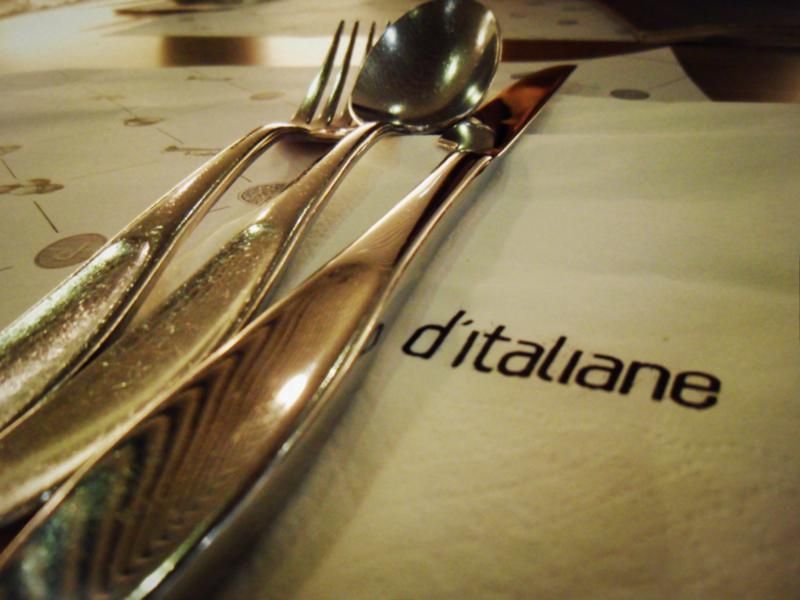 Played a while with the cutlery and place mats before our orders arrived..




There were only four of us and it included my brother who's just 8 and doesn't eat much, so we didn't order what we can't finish.




First up, appetizers!
Mozzarella in carozza - Mozzarella between panini, served with roma tomato sauce. Darn, it was awesome! Crispy, cheesy, lovely. Also, the tomato sauce gave it a not-so-dry kind of feeling so you won't end up with a parched throat. It's not too cheesy either, quite acceptable. We loved it.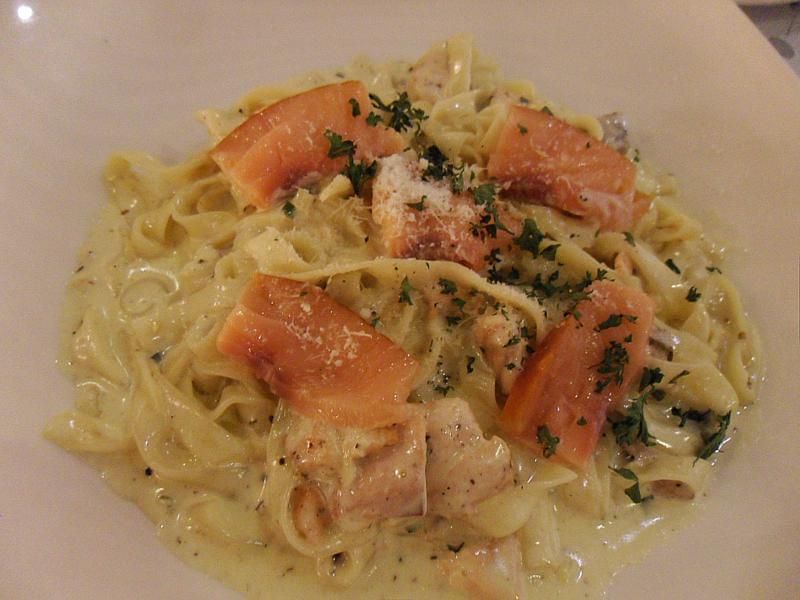 And here comes our main courses.
Salmon alfredo, which is of course, salmon alfredo. You don't say?
Well, to be more specific, salmon in alfredo sauce, which is a sauce made of Parmesan cheese, garlic, butter, parsley and so on.. Google the recipe up if you're interested.

I'm a salmon lover and I'm happy with the salmon. The fettuccine was just the right taste and you won't feel too full even though you finished the whole plate. It is creamy but it isn't enough to make you feel bloated.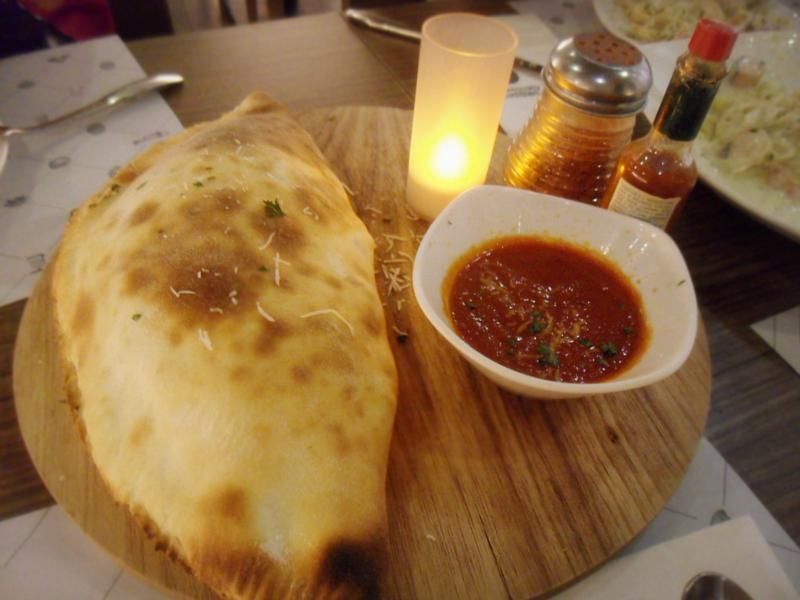 Guess what is it?




It's actually something related to a pizza called calzone. We were hesitating on which other main course to order and I saw a picture of this on the menu so why not have a try? I wasn't aware that the pizza had the shape of a curry puff. We got quite a surprise there.

The calzone is filled with eggs, turkey ham, caramelised onions, button mushrooms and stuff. It was something new for us and I have to say it tastes quite good too. It also comes with roma tomato sauce. Spreading it on the calzone is not-so-recommended as I tried it. It tastes better without the sauce but you can dip it into the sauce if you want to.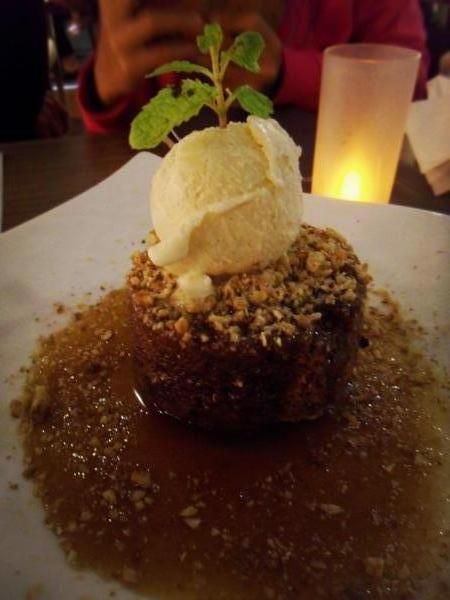 Lastly, for dessert, sticky toffee pudding.

It's pretty much a moist sponge cake covered in toffee sauce, topped with a gelato, which is Italian ice-cream. (actually, it's more or less the same as the ice-cream here, just a little smoother)
Hmmm... Can I say insufficient ice-cream? You see, the cake is warm and is best served with ice-cream but the we could only manage small scoops of ice-cream with huge chunks of cake. Not exactly HUGE but.. you get the point. It'll be better if the scoop of ice-cream is larger. :D other than that, the dessert was lovely.
me likey ice-cream :P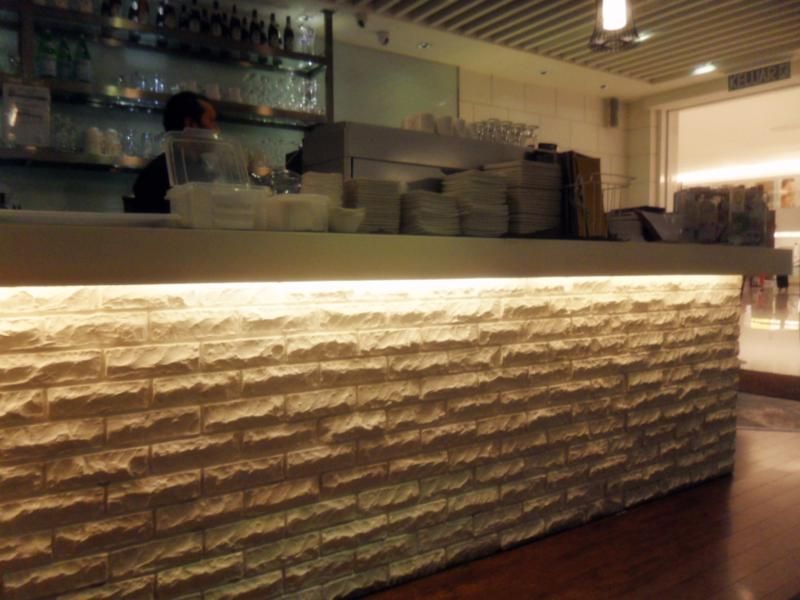 The service was great. Our waiter had an accent which strangely sounded Italian? hahaha. Maybe not.
The staff were pretty helpful and the environment was enjoyable too.
Price-wise... this isn't exactly fine dining but the food and ambience came at a price too. The bill was somewhere around RM120, which is more or less the average dining restaurant.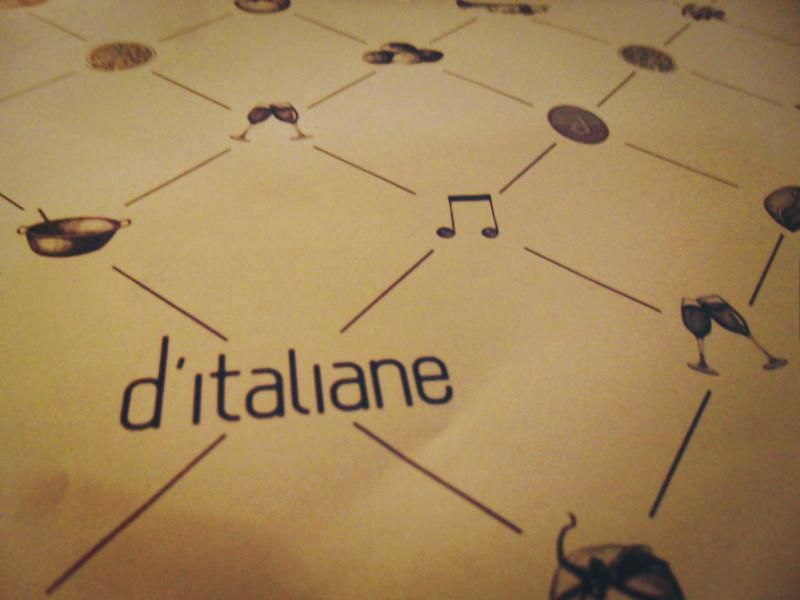 And here's a random picture of mine after the facial, which is totally irrelevant to the post above but I would like to apologize for not blogging frequently nowadays. I have some data entry work to do and well, it became one of my sources of income. I'll be done with it soon and hope to get back to blogging within these two weeks.
Bye for now! :P