Italy: Pisa, Siena and MILAN. :O
22:17
Well, here goes another part of my Italy trip :D

These places are not arranged chronologically though.
The Leaning Tower of Pisa
The trip to Italy would not be complete without visiting the
Leaning Tower of Pisa
.
[P-I-S-A, not P-I-Z-Z-A, mind you]
This tower functions as a bell tower. It is one of the three buildings in the square: the cathedral, baptistery and bell tower of Pisa.
Anyway, you'll see a lot of tourists doing something like this:
-picture from Google- dang, too bad I've forgotten to take a picture of them doing this
Well, from the right angle, it may look a whole lot different :D
oh yes, remember the earthquake in near Pisa somewhere at the end of May? We received news regarding that earthquake later that day. Well, thank god we weren't caught in the earthquake. It was on that SAME day we visited Pisa. D:
Siena- a city full of ups and downs, literally
Next on the list would be
Siena
. This city is quite beautiful in its way. It is a hill town, where the roads are, how do you put it, quite slanted.
ok, not very obvious slant
There's also this square where they hold horse races twice a year called
Piazza del Campo
.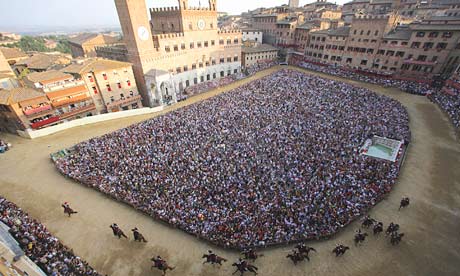 one of the horse races, -picture from Google as there weren't any events when I visited Siena-
While strolling along the streets of Siena...
Pizza + Water for 3.50 Euros
This is one huge
pizza
._.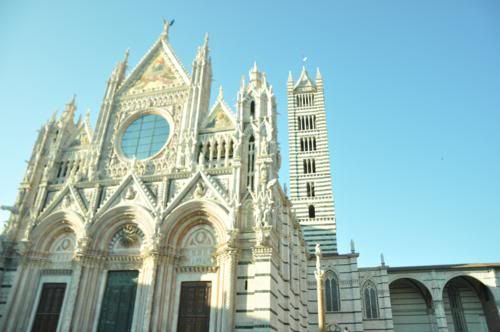 the Cathedral of Siena
Well, every city has its own cathedral(s). I'm not complaining but I DO get tired after visiting cathedrals for 4 or 5 days in a row. At the end of the trip, it was like,
*snaps pictures, takes a quick look and byebye*
and of course, the capital of fashion, MILAN.
Policemen standing guard
"Lucky" us, there was a demonstration at
DaVinci Square
, where there is a huge statue of Michelangelo
[duh, obviously].
Well, too bad I dont know enough Italian to understand what are they going on about.
and
say CIAO to the shopping streets in Milan
:D
There are lots of branded stuff here. The more famous ones being Prada, Gucci and LV.
After wandering for some time, you'll come to see the
Milan Cathedral
. The pope was visiting Milan at that time but unfortunately, we didn't get to see him walking the streets of Milan.
Me, with a funny-looking pose in front of the Milan Cathedral
Window-shopping is what we do best. So, during our free time, when everyone else was having McD or roaming around, we window-shopped. and shopped. and shopped.
And, we got back to the hotel after quite sometime and had dinner there.
The hotel room was quite big and.. mwahahaha, there's such a huge mirror hanging there, so..
Well, there's even a small dressing room :D
Coming up next: Florence, Turin and VENICE. Soon, I hope. Getting lazy. D: