Time for a little Arabian sights :D
Dubai, one of the states in the United Arab Emirates, is one of the richest countries in the world. Seriously, most of the Arabian countries are loaded with money. Therefore, there are a lot of crazy projects going on there. Some of them include:

This unfinished project of Dubai is described as
"crazy"
by our tour guide there. The World consists of
various small islands constructed in the shape of a world map
. The project is unveiled in 2003 and is still under construction up till now.
Burj Al-Arab
A dhow, -picture from Google-
This hotel is built to resemble the sail of an Arabian vessel called a
dhow.
Some said that this is the only 7-star hotel in the world. According to Wikipedia, the room price varies from approx.
$1,000 to $27,000 per night
. I don't think I'll ever get to stay a night in this hotel if the room rates are so dang high :X
ATLANTIS, THE PALM
Atlantis, The Palm
This particular hotel is located in the
Palm Jumeirah.
There's a water park inside the Atlantis hotel and a Dolphin Park too.
The fireworks for the grand opening of this place costs about $16million
. Now that's a lot of money. Believe it or not, it only lasted for 15 minutes! OhMyGod. It is about $1million per minute. Dang! I could do a lot with that amount of money. THIS IS CRAZY.
Here's a video of the grand opening from Youtube:
BURJ KHALIFA
Burj Khalifa
Of course, there's also
the world's tallest structure
, the Burj Khalifa, is also at Dubai. It is a little over 800meters, 829.84m to be exact and has a total of 163 floors.
Dubai Fountain
There's also a
musical fountain
outside the Dubai Mall and the Burj Khalifa. The water can shoot up to 150m. My advice? Prepare to get wet if you are standing in the first few rows. I didn't know and my poor DSLR was splattered with water droplets for the second time in the trip.
Dubai Fountain at 8pm
The crowd after the musical fountain at 8pm. D:
Well, to be frank, musical fountains look way better at night. Of course, there are afternoon and evening shows but the fountain don't stand out like the night shows.
Exterior of the Dubai Mall
The
Dubai Mall
is next to the Burj Khalifa. The mall has over 1,200 retail outlets and has almost every branded store you can think of. There's also an aquarium and a skating rink there.
Dubai Mall Aquarium
Oh yes, the food there is quite expensive. Even though we went to the food court after surveying the price lists for some restaurants, we still find the food in the food court expensive. Therefore, we had the cheapest meal we could find:
KFC
:D
Dates at Bateel
You should buy some
dates
too. Most of them are sweet but there are also some not-so-sweet ones. Some shops let you taste the dates too. Just ask the salesperson.
Waterfall in Dubai Mall
Souks
are traditional Arabian markets. Well, the one that I went to is half-and-half because there's air-conditioning inside. Hey, by the way, people who are in the air-conditioning business earns a lot because
the temperature there could be like
,
40
degrees Celsius.
Souk Madinat Jumeirah
Looking for a place to relax?
The scenery there is not too bad either. Unfortunately, the weather made me stay indoors because it is quite hot there. Now I've learnt to appreciate the weather in Malaysia :X
mwahahaha. same pose as before.
I've never been to the desert before. It wasn't too bad but my tummy was disagreeing with the ride there as it was a bumpy ride and I was sitting at the back. The
desert safari
was also quite new to me. It is fun too, especially if you go
faster
.
No
, not the animal kind of safari.
A desert safari is one where you take a four-wheel drive vehicle and go up and down the sand dunes.
Taking a short break
Camel ride
I've never seen a real live camel before too. This trip to the desert really has its benefits. Riding on a camel is not too easy, especially on these because they'll suddenly fall to their knees when it is time for you to get down. The jerk is totally unexpected and make sure that you hold on tight and not fall face-down to the sand.
Oh well, even if you did fall, it's sand,
and the impact will be not so great.
Henna tattoo

Had a

Henna tattoo

done too!

It is made from herbs and will dry off. After that, you'll just have to brush the dried herbs off and ta-da! Your Henna tattoo will be with you for 2 weeks or so if you do not try to get rid of it. Unfortunately, I've totally dismissed the thought that I have school a few days after I had this tattoo so..
never mind. It's just a little obvious, that's it. I didn't get punished or anything.
Dinner at the camp
Dinnertime~ Buffet, Arabian style! Free soft drinks too. x) There were also some performances while we had our dinner. Dinner was not too bad and after that, we took the same four-wheel drive back to the hotel.
The mischievous driver took the super bumpy road. Yes,
after dinner
.
DARNIT
. and he had to switch to super fast mode too.
Ugh =/
Good thing I wasn't sitting at the back anymore.
Guess that's the end of my 3D2N trip to Dubai.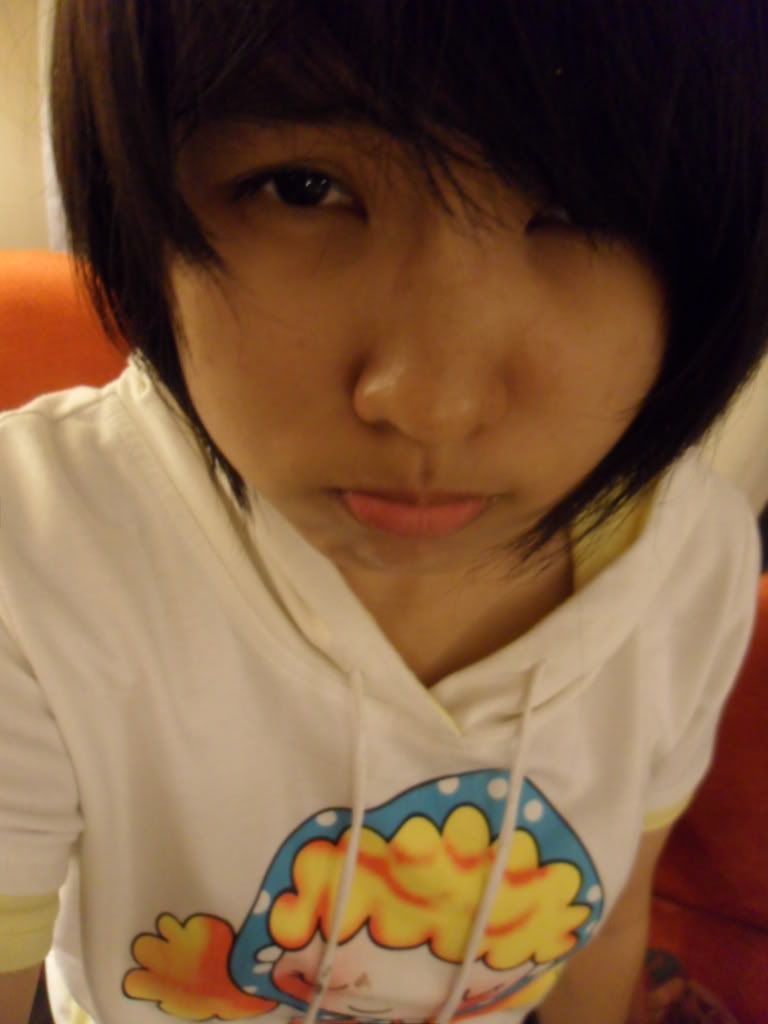 Here's my sad face =( .

me likey vacations
I've learnt quite a lot about Dubai and some European countries from this trip. The experience itself is priceless and can't be found in textbooks and such. To really know something, you'd have to experience it firsthand and not just listen to others.
Well, I really love vacations and travelling because I have the chance to meet other people from different countries and who knows? Maybe you'll get new friends too!
I did. :D