Paris, Je t'aime. ♥
22:35
Bonjour~
[ if you don't already know, that's "Hello" in French. and Je t'aime means "I Love You" x) ]

Ok. So I'm here to update on my trip to Paris. Paris, is also known to many as a romantic place. Yes, it is, with the Eiffel tower and such.


Notre Dame
Well, we didn't get down at the
Notre Dame
but the exterior of the cathedral is quite familiar. Maybe it was because I used to watch
"The Hunchback of Notre Dame"
from Disney?
Seriously, I prefer the cartoon version, thank you very much. It makes it less frightening for a kid. :O
dum dee dum
.
Preview of the Eiffel Tower
:D was quite far away that time ._.
and we took a group photo somewhere around. Pity the tour manager for he had to take our pictures with almost everyone's cameras.
tour manager with lots of cameras. wondering if he would run away with them x)
Ok. Next stop? Next to the Eiffel.
ZOMG! To think that I'd actually make it there
:D
The Eiffel Tower
This is one of my favorites. I just like the way the sun rays are being cast. It has a
Oh-So-Romantic
feel to it. It looks even better at night, with all the blinking lights and laser beams.
IT'S. SO. DANG.
NICE
. Ok, before that picture..
View from Montparnasse, a building that offers a 360 degree view of Paris
We didn't go up the Eiffel but we went up an office building called
Montparnasse
. This particular building isn't as romantic or anything like the Eiffel but well, the elevator of the Eiffel was kinda under maintenance so we figured why not go up Montparnasse? We can see the Eiffel from there whilst we can't while we're looking from the Eiffel :D
Montparnasse
To be frank, I'm kinda addicted to
Haagen-Dazs
so I tend to take a photo of all Haagen-Dazs shops that I see when I'm on vacation. Yes, it's freaky.
Haagen-Dazs~♥ me lurvey
We also went to this
"Oh-My-God-So-Many-Branded-Stuff"
departmental store called
Galleries Lafayette
.
Fratelli Prada, Gucci, Chanel, Balenciaga, Longchamp, Louis Vuitton, Burberry, Chloe, Celine
.. you name it! There's a men's department, ladies' department and even a building for furniture.
[eesh. piece of advice: don't go inside if you don't have enough money for shopping. you'll crave for those branded stuff. trust me. it happens]
Inside Galleries Lafayette.
Ehem.. *coughs*
The picture above shows what will happen when you leave a bunch of shopaholics inside Galleries Lafayette for a little more than half a day.
And.. here's another photo stop
in front of the Eiffel
The Eiffel really is amazing, huh? I was totally awestruck by its beauty :O
On the Seine River Cruise. Yes, the rain.
We went on the
Seine River cruise
too but unfortunately, it was raining. Thank God the rain in Europe isn't anything like Malaysia's or the money we paid for the cruise would be wasted.
"N" stands for Napoleon? not sure LOL
Was struggling against the rain as I was taking pictures from the top deck. Ugh. Raindrops all over my poor DSLR :(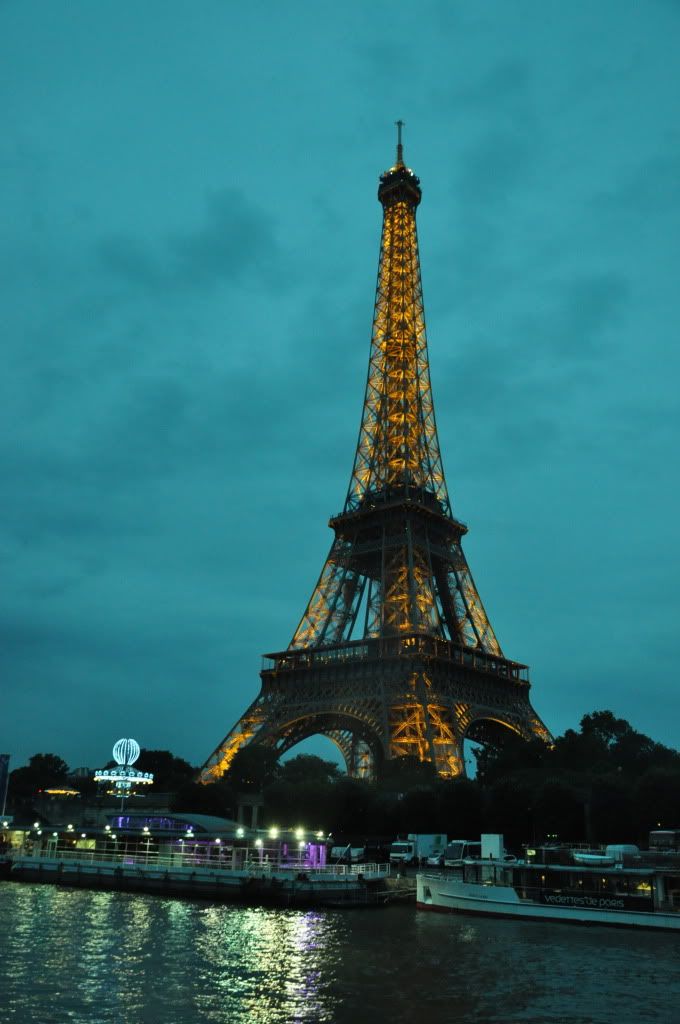 The Eiffel at night
Well, the picture above is without the blinking lights. and the one below is with the lights.
Another unfortunate incident being the timing of the cruise boat and the blinking of the tower isn't that coordinated, which is why the viewpoint when the lights were blinking isn't that nice. You can still feel the magic of it though, even from far.
Kinda romantic, right? who are you kidding? it's AWESOME!
Ok. Enough of the romance. Let's see something else :/
What? Kinda in the
ForeverAlone mode
now.
Another famous landmark in Paris is the
Arc de Triomphe
. There are lots of names inscribed on the arc, which serves to honor those who fought for France in the
French Revolutionary and Napoleonic Wars.
Arc de Triomphe
It is located at the western end of the
Champs-Elysees
. The city tour guide pronounced it with a slightly-funny-sounding slur:
Shom-Uh-Leee-Zayyyyyy
. We were laughing. I don't mean any disrespect but it does sound a little funny, I meant the way he pronounced it and kept repeating it. Technically, it's one of the most famous streets and it costs quite a lot to live there!
Where next? Hmmmm.
Musee de Louvre
? Sounds good.
Musee de Louvre
As most of you may know, the Musee de Louvre, also known as the
Louvre Museum
is one of the largest museums in the world. It is also quite special with its glass pyramid entrance and stuff. It is said that you'll have to take 10 years to fully enjoy all the exhibits inside. Dang! I don't have the patience. D:
For adults, the admission price would be 10euros. For those who are below 18, keep your money for some coffee or whatever, because admission is free.
Oh yes, the Louvre Museum is home to the famous daVinci painting,
Mona Lisa
.
As an
EXTREMELY FAMOUS
painting, the hall where Mona Lisa is placed is full of tourists trying to capture a picture of the painting. I'd thought the painting would be bigger but it turned out that I was wrong.
daVinci's Mona Lisa
What is so special about the Mona Lisa?
1. It was painted in such a realistic way so that it seemed that she's alive
2. Her smile is dang perfect
3. The background of the painting is unlike the traditional ones where the foreground and background are equally distinct
4. Her pose broke tradition because previously, portraits are usually full-length ones.
There are other exhibits there too, including:
Psyche and Cupid by Antonio Canova
The Nike of Samothrace (The Winged Victory of Samothrace)
The Wedding Feast at Cana by Veronese
Captive (the Dying Slave) by Michelangelo
St Mary Magdalene by Gregor Erhart
Tiki head :D

[ok. i dont know the exact name of this artifact]
Me likey tikis
. hahas :D
This reminds me of those cartoons I watched as a little girl
[yes. cartoons. again.]
David and the Goliath
Obviously, there are many more exhibits lying around. Too bad because we just had 2-3 hours there so naturally, we didn't cover every floor. We missed quite a lot of stuff. Never mind, at the bright side, I got to see Mona Lisa :D
Statue of Louis XVI
Anyway, we've just finished studying a little bit of the French Revolution and stuff in our history class so I was kinda thrilled to see those stuff with my own eyes. Lucky me xD
Glass Pyramids in the Louvre
The last stop would be
Disney Walk
. No, we didn't go into Disneyland as most of us were shopping again. We only had time to go to Disney Walk, which sells Disney souvenirs and stuff.
After the metro station :D
I do enjoy Disney cartoons and stuff and I've never been to Disneyland before. Ironic. Oh well, better than nothing.
the Disney souvenir store
OK. I see myself
Anyway, there wasn't anything much there but I got a taste of what Disneyland might look like. Will be prepared mentally next time I visit Disneyland :D
Foodwise, I think I enjoy wine. mwahahaha.
Ok,
*puts on serious face*
. I've never tried escargot before and my mom was like
"TRY IT! YOU'RE IN FRANCE AND YOU DON'T TAKE ESCARGOT?!"
Jeesh.
Escargot
is a little too gross for me but in the end, yes, I reluctantly took it. It tasted a little like rubber to me. Well, I'm never a huge fan of snails anyway. :O
Escargot
Foie gras
tasted better to me. Foie gras, meaning goose liver. It tastes better when you spread it on bread. I wasn't used to the taste at first but after some slow-motioned chewing, it tasted not-too-bad!
Hmm, maybe that's why French people take their time eating..
Foie gras
Duck confit
is actually duck leg, which is bearable
[and quite normal]
. It doesn't taste too bad either :D
Duck confit
Overall, France is such a slow-moving and awesome country, with all those people and places. By the way, French sounds romantic too, don't you think?
♥