Wanted to watch The Tower after the carnival at my school but unfortunately the only available time was 11pm so we decided to watch Parker instead. Well, because of Jason Statham? (partly) x)
OK. I wasn't the one choosing the movie but I did enjoy it.
The initial release date for Parker was 23 Jan 2013, and it's about 2 hours.
A thief with a unique code of professional ethics is double-crossed by his crew and left for dead. Assuming a new disguise and forming an unlikely alliance with a woman on the inside, he looks to hijack the score of the crew's latest heist. -
IMDb.com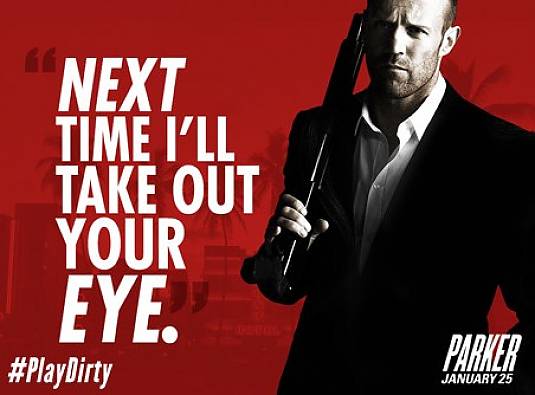 In the beginning of the movie, Parker was shot in the head after being double-crossed. It was quite gruesome, really. My friend said Jason Staham is even attractive when he's covered in blood. Seriously? Oh gosh. Sadistic guy. Things got a lot bloodier after that. Lots of guns and knives in action too.
"Civilized people need to follow rules. And these are mine; I don't steal from people who can't afford it, and I don't hurt people that don't deserve it. But most importantly, if you say you'll do something then you don't, I'll make sure you'll regret it." - Parker.
Parker met Leslie Rogers, a real estate agent, after he went to Palm Beach to go after his former crew which backstabbed him. He enlisted her help and Leslie fell for him, without knowing that Parker is already in a relationship with Claire. Heartbroken ._.
The movie was adapted from one of the novels in Donald E. Westlake's Parker series, Flashfire. Filming started in 2011 and it is directed by Taylor Hackford and produced by Steven Chasman, Alexander, Sidney Kimmel, Jonathan Mitchell and Hackford.
Anyway, if you're wondering, Parker doesn't have a first name. The author never knew what to name him.
"I don't know what the hell it would be, maybe Frank." -
Donald E. Westlake
Being a former diver for the British Olympic team, Jason Statham performed all of Parker's stunts in the movie.
-recalling the scenes and ouch, it hurts!-
Jason Statham (former diver, FCUK model), as Parker.
Jennifer Lopez as Leslie Rogers. Dang, I kinda like some of her songs :D
Michael Chiklis as Melander, also The Thing in Fantastic Four.
Clifton Collins, Jr. as Ross.
Bobby Cannavale as Jake Fernandez.
Wendell Pierce as Carlson.
Emma Booth as Claire.
Conclusion? Parker is quite a nice movie but if you faint at the sight of blood, I'll suggest you to not watch it. :)