Maroon 5 Overexposed Tour in Malaysia!
21:53
After days of Vichy's "clothes off!" and piles of schoolwork, I finally got to attend the one-night-only Overexposed concert in Malaysia by Maroon 5. Gosh! I was super hyped. And even when I'm typing this, I can't believe I was actually there with a few thousand fans of Maroon 5's yesterday night!




Being a goody-goody, I didn't even bother to bring my DSLR nor my digital camera as it mentioned "no photography or recording". I enjoyed the concert a whole lot though.




*La me with the tired-after-school-but-can't-wait-for-the-concert look.




We reached Shah Alam Stadium around 8pm and got myself a T-shirt and some badges.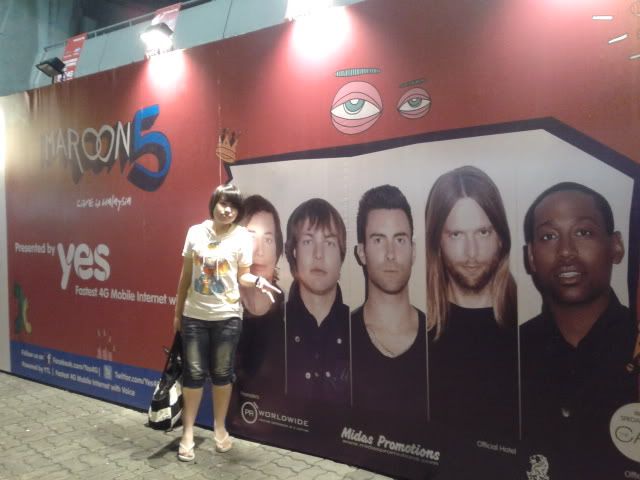 Took a picture with Maroon 5, or at least with a backdrop of them. Better than nothing, right?




With The Cab as the opening guest, the concert started at 9pm, sharp. The Cab is a band based in Las Vegas. They sang a few songs and personally, I think that the lead singer should sing more rock songs rather than slow ones.




They finished their act within half and hour and while waiting for Maroon 5 to arrive at the stadium, one of their members managed a free kick with an invisible football whilst one more acted as goalkeeper. It was for just a few minutes but I appreciate the entertainment, since they were exaggerating it.




Finally, 10pm. Three white flashy Peugeot cars were being driven into the stadium. And of course, who else but Maroon 5 could have arrived at the stadium? They started the concert with one of my favourite songs, Payphone. Immediately, I got into the concert mood.

Well, Vichy asked me to call her so I did. And she was dang hyped when she received my call. She managed to post an FB status and a tweet to tell the world. Seriously? Yes, come to think of it, she is that kind of girl.
Called Michelle and she's out to finish me off one of these days.
Called JiaWen but she didn't answer, turned out that she accidentally fell asleep while waiting for my call.
Called TamTong who was supposed to go to the concert with me but couldn't make it because he had no transport home.

They sang a few other songs off their newest album, Overexposed. One More Night, Lucky Strike, Daylight, Wipe Your Eyes.. Wipe Your Eyes is also one of my favourites. I also found out that Adam Levine's favourite is Daylight. Well, he said so.

Speaking of Adam Levine, dang, he's hot and cute! He's such a showoff but well, I kinda like it. He also said "Thank You" and "Thank You very much" quite a few times with his amazingly-attractive-and-hard-to-resist voice. Darnit. :X

Of course, they also performed songs from their previous albums. She Will be Loved is, of course, on the must-listen list. Other songs include Misery, Sunday Night, Hands All Over, This Love, Wake Up Call and Won't Go Home Without You. In short, they totally brought the house down. With all those screams, I couldn't even hear my own voice!

There was a song where Adam Levine was on the drums while James Valentine was on the vocals. James Valentine could sing quite well too.
Each of the members had a solo part. James Valentine on the guitar, Matt Flynn with his drums, PJ Morton on the keyboard, Michael Madden on the bass guitar and Adam Levine, well, he stole the show with his amazingly perfect voice.

They did not rest much in between that one and a half hour when they perform. The only time for them to really catch a breath is about 5 minutes, no more than that.

The grand finale was great! And to top it off, there was a line of "Oppa Gangnam Style". Unfortunately, we didn't get to see Maroon 5 dance the horseback dance. Well, the grand finale is the song which I could listen to for a year and never get bored (I mean it literally).. MOVES LIKE JAGGER! Everybody was practically rocking to the beat at that last song.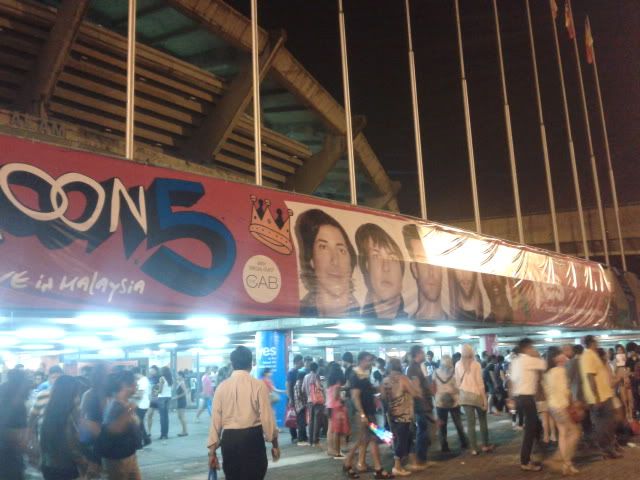 Seriously, I promise myself that I'll be at their next concert in Malaysia and I want to be with the standing crowd! Who's with me? x)




And here's me around 1.30am, finally at home, with schoolwork and tiredness to juggle a few hours later. I was maxed out. Hit the sacks a few minutes later. Woke up a sleepyhead at 5am in the morning, walked like a zombie to school and slept in class before school started. Hey, wait.. That happens everyday..


-Unfortunately, I still couldn't find pictures of the concert online. I'll update them in this post sometime later and excuse me for some of the pictures taken by my super-low-megapixel phone camera-