MJ Exchange Program.
17:09
MJ doesn't stand for Michael Jackson in this case. It stands for Malaysia-Japan. To be precise, it's an exchange program between my school and Japan's Hakuo High School which took place in 31 October this year. Same day as Halloween. :D

Yes, I was a little nervous because I don't speak Japanese well and I was wondering what my partner would look like.




Applaud applaud. Why? Because the visitors are here already. Oh gosh, did I mention that I was nervous? Turned out that I did.




After everyone was settled down, it turned out to be something like this. You might spot me somewhere in the crowd if you have keen eyes. Or you happened to know where I sat.

-after speeches and after both schools exchanged souvenirs-




Our school's brass band performed for the guests. Nice batik clothes and what a wonderful performance.




Next up, Japanese drums performance from Hakuo High School. I was expecting guys to go up but it turned out to be an all-girls performance. I was a little shocked but they played quite well too.

Now a look at my partner, Shiori-san ("-san" is pretty much a more formal way to address someone in Japanese). She's a beauty and has a dollish face but unfortunately, she's a shy girl. She's shy, I'm shy, we're both shy. :(
She doesn't speak much English, I don't speak much Japanese. Kind of disastrous, if you ask me.




But I still managed to get her into a little polite conversation. Her hobbies, the weather in Malaysia.. OK, I just managed to get her to talk a little. She'll just smile and nod off stuff she doesn't understand. ._.
You have to admit, she's kind of elegant and more like the classy type. Drawing, painting, music? Definitely.
Phyn Ping said Shiori-san and I are of the different kind, meaning I'm not elegant and stuff. Darnit.




Anyway, she likes the 24 drums. She spent more than 10 minutes with the drums. Well, I like drums too. Therefore, ta-da! We have a common interest. Haha. She plays piano too. Voila, another common interest! I'm serious. *serious face on*




At the diabolo booth. Forgotten to turn the flash off and this is the result of it.




We had booths from both our school and Hakuo High School in the Kong Chen Hall.




And lunch at the school canteen. We shared a table with some of my classmates and their partners. You can't find me in this picture anyway. I can just see part of my head. Haha. No comment on the food. Edible is enough. :D




Batik painting. It was quite awesome. Students and teachers from both schools helped complete it.




Time for a group photo and a final goodbye. :')
This is not exactly all of us. We were divided into three main groups. There were 200+ students from Japan in total. When's our turn? I havn't been to Japan :D

Shiori-san said that she would e-mail me but I havn't received any so far. I asked her for her email but she said that she'd forgotten it. :(




Shiori-san LOVES rabbits. That's why I purposely attached a sticker of a rabbit on the note I gave her.
"Rabbits are cute" Well, I couldn't find anything else to write..




This is not a goodie bag. I repeat, THIS IS NOT A GOODIE BAG. These are my gifts for Shiori-san: A rabbit figurine, a notebook and some sweets.




In return, I got 2 phone decorations. A Hello Kitty with Mount Fuji and a Rilakkuma with a.. bowl of ramen? I have to admit that they are pretty cute. x)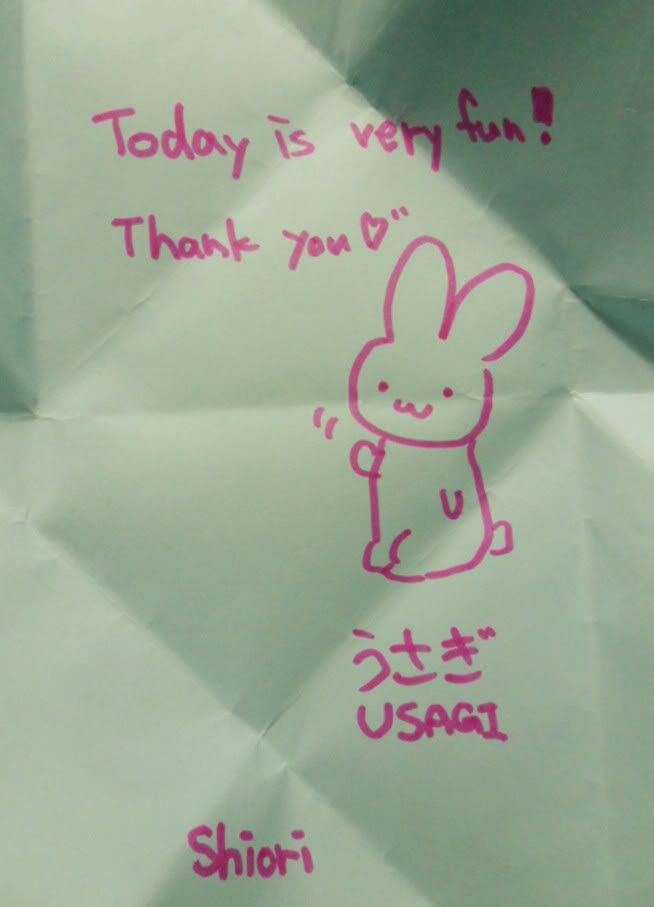 A note from her. :3
Cute rabbit. Glad she had fun. I was afraid that she'd be bored or something. I was friendly, but I didn't know what to say to her most of the time we spent that day. Guess we were just being politely friendly? If we meet again, I seriously would just give her a hug, there and then. :D

*most of the photos from my school's FB page, mainly those which doesn't feature Shiori and the presents. x)