Merdeka! promotions and offers
23:48
Shouts of "Merdeka", which is freedom or independence in the Malay language, was heard throughout Malaysia on 31 August 1957 after Malaysia's first Prime Minister, Tunku Abdul Rahman Putra al-Haj declared the independence of the Federation of Malaya from the British rule.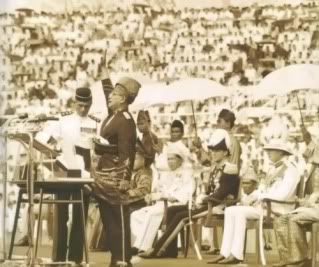 So, 55 years from then, Malaysia will be celebrating its 55th National Day tomorrow. The theme varies from year to year. This year, it's "Janji Ditepati", which translates into "promises kept". I won't be discussing Malaysian politics because it is such a sad case.




Anyway, there are some freebies and promotions on for the National Day (and some not-too-related ones). For example,




RapidKL will extend monorail and LRT rides' operating hours to 1am for 30 and 31 August for selected stations: Bandaraya, Hang Tuah, Titiwangsa, Kelana Jaya, KL Sentral, Masjid Jamek, Dang Wangi and KLCC.
Free rides would also be given to those who attend the Merdeka Day gathering in Bukit Jalil. You could get a token from various LRT or monorail stations to get to the Bukit Jalil LRT station and a similar token back from the Bukit Jalil LRT station.
(more information here)




Several highways and expressways will offer discounts and rebates for the National Day celebration tomorrow. And the LDP expressway is FREE to all motorists.
(more information here)




Taiwan based Hot-Star Large Fried Chicken will be having a Merdeka Day Buy 1 Free 1 promo at Pavilion Mall and SS15 tomorrow. I've tried the one in Taiwan and it was worth the queue!




And since it's the 31st, drop by at Baskin Robbins to get 31% off on handpacked ice-cream.




And if you are a huge fan of Paul Frank, make use of this opportunity to get a 50% discount on the 2nd item.




Drop by at Uniqlo from 29th August till 6th September 2012 to grab an item or two for RM12.90 – RM39.90. Items available for the promotion are shown here.




FREE RM50 voucher for any purchase of RM550 from Sasa, 24 Aug - 2 Sept 2012.
Well, honestly, I'd get something else because I don't think I'll spend RM550 on this.




Looking for a book? Popular Malaysia will be giving out RM5 vouchers for every RM100 spent (members) and RM120 spent (non-members) in a single receipt.




Get 31% off for items purchased in Elianto from 31 Aug - 2 Sept 2012. Nail care products excluded.




55% off for Bonita items storewide from 31 Aug - 2 Sept 2012.




50% off storewide for Tiamo items too.




Purchase RM150 worth of items and get a RM10 discount voucher at Parkson outlets.




Robinsons will also be having a 3-hour early bird promotion. Be there at 9am - 12pm tomorrow to get the items here.

There's only 10 minutes left until National day.
Happy Merdeka my dear Malaysians!